The Kreyos Meteor is a hands-free, two-way communication system that you wear on your wrist. On your belt. On your bike. Or even on a lanyard around your neck. Because it is light and portable, it's easy to wear while on the move – whether you're on a long bike ride or a short-trip to the grocery store. The company is offering that you will have hands-free control over the powerhouse mini-computer that sits in your pocket.
Kreyos Meteor has the ability to answer phone calls DIRECTLY from your wrist
without reaching for your phone in the pocket. You can answer the call with a gesture or by simply pressing the answer button on the watch.
We added this update as many backers are
confused whether they can answer calls from their wrist. UPDATE (01-JULY-2013):
Question: Does the Kreyos Meteor have a sim card slot?
A: No, your Kreyos needs to be connected to your smartphone via Bluetooth in order to answer calls. Its not meant to replace a smartphone.
Since the first time Captain Kirk spoke into his "communicator," people have dreamed of using their voice to control communications. As the only waterproof, interactive smartwatch to feature a microphone and speaker, the Kreyos Meteor is the first to allow you to control your smartphone – and your smartphone functions – remotely using voice commands.
UPDATE (28-JUNE-2013): Gestures controls could be configured in the free Kreyos App.
Wish you could send texts without typing? Or change your music without pressing a button?
Talking to your watch makes communication easy, but we also added motion control right into the Kreyos operating system. Using a 3-axis gyroscope, controlling your Kreyos Meteor Smartwatch is as easy as moving your hand.
In the Meteor, four different wrist motions come preconfigured – and you can pick an action to correspond to specific activities. In the future, we'll be adding a variety of additional motions to the Kreyos platform, enabling you to expand the motions in your repertoire. And developers also will have the freedom to build additional gestures into applications.
Because of its hands-free functionality, the Kreyos Meteor gives you more freedom to move around your world – without losing contact with your social, business and family networks.
UPDATE (28-JUNE-2013): Kreyos Meteor can keep time even when disconnected from your phone. Kreyos Meteor also has inbuilt "widgets" that comes included. It works independently WITHOUT any smartphone connected.
Daily Activity Tracker
Calendar
Countdown Timer
Sports Mode – Walking, Running & Cycling
Multi World Clock
Analog Display
Digital Display
Multi Silent Vibrating Alarms
UPDATE (28-JUNE-2013): We will be setting up a platform for developers to upload watch faces. Uploaded watch faces will then be available directly on the Kreyos App for downloading and pushing updates to the watch instantly.
Customizing your watchface is easy. The Meteor includes more than 20 digital and analog watch faces. Change the look and feel of your watch whenever you feel like it. Of course, 20 is just the beginning! More to come in the future!
No two humans are alike. So why should everyone have to wear their smartwatch on their wrist? That's why we created a series of watchbands and accessories designed to fit your lifestyle.
All of our watchbands and accessories are designed using high-grade, durable silicone. As a result, they are waterproof, flexible and fun to wear – whether you're a couch potato, a fashionista, or a professional athlete!
This season, we're offering our watchbands and accessories in a series of "hot" colors perfect for those who are fashion forward: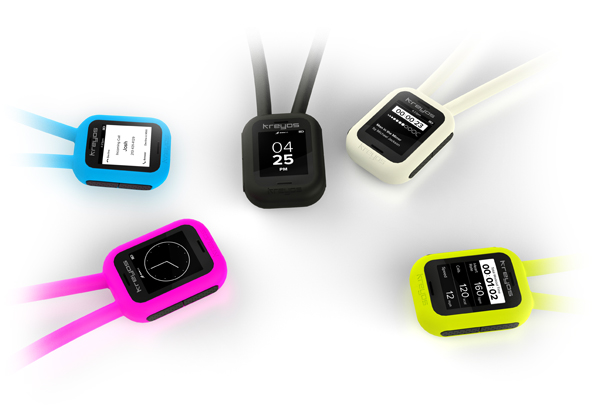 Because you can wear it as a watch, hang it from your belt, attach it to your bike or wear it around your neck, the Kreyos Meteor frees you up to do the things you need to do – without worrying about dropping or losing your smartphone. And it gives you the freedom to communicate – via voice, text, or email – even when holding a phone or tablet is inconvenient.
Watch for more fun, flexible accessories and colors in the future! You'll want to collect them all!